The Plant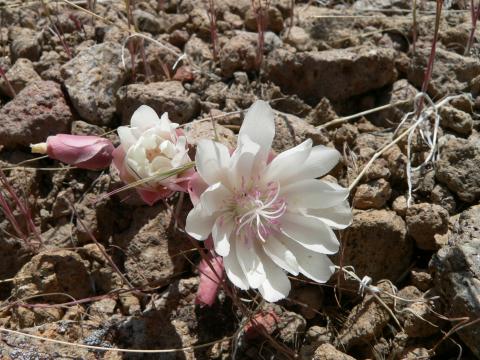 Conservation Alliance (PCA) holds Bi-Monthly Meetings that are an open forum for anyone interested or working in plant conservation. Meetings are held every other month in the Washington DC metropolitan area, with an option to join online.
Each meeting features a speaker from the plant conservation community. In addition, there is a roundtable for attendees to share relevant events, as well as updates from each of the PCA working groups and committees. Regular attendees include representatives from the PCA Federal agencies and from Cooperating organizations; however anyone is welcome to attend this meeting.
NEXT MEETING:  Wednesday March 11, 2020, 2:00 - 4:00 pm ET.
Dr. Peter Marra, Director, Georgetown Environmental Initiative; Laudato Si' Professor of Biology and the Environment; Professor, McCourt School of Public Policy -- on the Decline of North American avifauna and the role of native plants in protecting birds (Dr. Marra will be presenting in person at NatureServe)
*****This meeting will be hosted at NatureServe, 2550 South Clark Street, Suite 930, Arlington, VA 22202-3926*****
To Attend in Person 
NatureServe is located about 10 minutes walking distance from the Crystal City Metro. Metered street parking (2 hour limit) and garage parking ($12-$20 daily) are available but may be limited.*
To Attend by Webinar via Zoom
Please join on a computer or mobile device that will allow you to see the screen. You may use your computer or your phone for audio. 
After registering, you will receive a confirmation email containing information about joining the meeting. 
About the Presentation: Slowing the loss of biodiversity across terrestrial and marine biomes is perhaps the greatest conservation challenge we face as environmentalists in the 21st century. Over the past 150 years, vertebrate extinctions have been driven largely by habitat loss, overharvesting and invasive species, but the pervasiveness of current avian declines suggests multiple and interacting causes ranging from habitat loss and change to overharvesting to cat depredation, and identifying which of these factors drives population dynamics is complex and challenging.  I'll summarize the results of our recent paper on bird loss and describe several actions that are necessary for recovery including the role of native plants.
About the Speaker: Pete Marra is Director of the Georgetown Environmental Initiative (GEI), Laudato Si' Professor in Biology and the Environment, and Professor in the McCourt School of Public Policy at Georgetown University. Pete comes to Georgetown University after a 20-year career at the Smithsonian Institution, most recently as Director of the Migratory Bird Center. He holds a Ph.D. from Dartmouth College and has authored over 225 papers published in journals such as Science, Nature and the Proceedings of the National Academy. Marra has obtained grants from the National Science Foundation, the U.S. Fish and Wildlife Service, USAID, the Department of Defense, the Environmental Protection Agency, and the Knobloch Family Foundation, and other major funders, focusing on the conservation of migratory birds, the impacts of invasive plants, animals and pathogens (West Nile virus), and more. Marra's research is both fundamental and applied and emphasizes connecting events throughout the life cycles of animals to understand how complex interactions drive the ecology, evolution and conservation of species. This work is also interdisciplinary, often merging novel areas and emerging techniques. Recent publications include a widely-discussed study in Science on the loss of nearly one third of bird populations (2.9 billion birds) in North America over the last 50 years. Marra also co-edited the frequently cited book, Birds of Two Worlds, and recently published a second book, Cat Wars: The Devastating Consequences of Cuddly Killer. Pete lives in Takoma Park, Maryland, with his wife and two children; he is an avid fisherman, a gardener and cook.
Future Meetings
Mark your calendars for the following future PCA meetings that are usually held the second Wednesday of the month in January, March, May, July, September, and November.  
About two weeks before each meeting, more information will be posted to this page about the presentation, including call-in information.
May 12, 2020 - Deputy Prosecutor Katrina Outland, Skagit County, WA. Poaching and the Venus flytrap
July 8, 2020 - Regional Plant Collaborations
Mr. David Lincicome, Natural Heritage Program Manager, Tennessee Department of Environment and Conservation, Division of Natural Areas. A brief history of the Tennessee Plant Conservation Alliance and the Southeast plant conservation alliance coordinators conference calls and their role within regional plant conservation and networking efforts. (Remote)
Kristi Allen, Pennsylvania Plant Conservation Alliance. Pennsylvania Plant Conservation network: 2 years in - successes, challenges and lessons learned (Remote)
September 9, 2020 - Dr. Kayri Havens, Director of Plant Science and Conservation, Chicago Botanic Garden. Budburst - Get Involved! (Remote)
November 18, 2020 (Note this meeting date was moved to the third Wednesday to accommodate Veteran's Day holiday) - Ms. Alyssa Smoy, Bureau of Indian Affairs Tribal Resilience Program and Chippewa Cree Tribe Member. Native plant conservation and invasive plant impacts as an effect of climate change on Tribal Lands. (Remote)
Previous Meetings
January 8, 2020 - Dr. Kirk W. Davies, Lead Rangeland Scientist at the USDA Agricultural Research Service Unit at the Eastern Oregon Agricultural Research Center in Burns, OR., to presented "Collaboration and precision restoration to improve native plant restoration in arid ecosystems." He spoke about research to overcome some common barriers to successful restoration with native plant seeds, focusing on four experimental innovations in the early stages of development: 1) agglomeration - to facilitate seedling emergence through soil crust; 2) activated carbon pellet - to protect from herbicides used to decrease competition from invasive; 3) seed pillow- to promote seed/soil contact for germination; and 4) hydrophobic seed coat - to delay germination to the spring. View the presentation, published information on this topic, and address any questions to <kirk.davies @ ars.usda.gov>.
November 13, 2019 - Gerry Moore, the National Plant Data Team Lead for the US Department of Agriculture-Natural Resources Conservation Service, spoke about the genesis and future of the USDA PLANTS Database, which provides standardized information about the vascular plants, mosses, liverworts, hornworts, and lichens of the U.S. and its territories, including a section on PLANTS T&E which provides access to state and federally protected plant information. Gerry discussed the variations in rare plant protection from state to state (with some states having full legal protections and others having no legal protections for plants) as well as the regulatory, management, and rangewide implications of state-level determinations of native or non-native status. Download the presentation, a recording of the presentation, and The PLANTS Database.
September 11, 2019 - Kelly Rourke and Elizzabeth Kaufman of Pollinator Partnership discussed the Monarch Wings Across America Program, which began in Ohio in 2015 and has since grown into a 9-state monarch and imperiled pollinator conservation effort. MWAA is currently operating in AR, CA, IL, IN, MI, MO, OH, PA, and WI. Through first an ecoregional approach (Monarch Wings Across the Eastern Broadleaf Forest) followed by state-based boundaries (Project Wingspan), this program has engaged NGO and Federal partners, along with private volunteers, to rapidly increase habitat, native plant materials, and preferred land management practices for pollinators. So far, these collective efforts have impacted over 30,000 acres of pollinator habitat in the target areas. Learn more athttps://www.pollinator.org/monarch/mwaa.
July 10, 2019 - There was no speaker for this meeting and discussions centered on new efforts to develop a better mechanism for the National Seed Strategy progress-reporting and initial thoughts to revise the National Seed Strategy (post-2020), in addition to forging connections with the UN Decade of Restoration (that will launch in June 2021), updates on the Plant Performance Data Integration Project, and 2020 PCA speaker planning. The Oak Conservation Alliance and the National Academies of Sciences' Assessment of Native Seed Needs and Capacities were announced.
May 21, 2019 - Javier Robayo spoke about Foundacion EcoMinga and the facinating botanical diversity of Ecuador. ABSTRACT: Fundacion EcoMinga (EcoMinga Foundation in English) is an Ecuadorian foundation with international sponsors, dedicated to the conservation of the unique foothill forests, cloud forests, and alpine grasslands ("paramo") of the Andes, especially those on the edge of the Amazon basin in east-central Ecuador and those on the super-wet western Andean slopes of the Choco region in northwest Ecuador. The foundation was established in Ecuador in 2006, under the statutes and supervision of the Ecuadorian Ministerio del Ambiente.
March 13, 2019 - Chris Martine (Bucknell University) presented Plants are Cool, Too: #SciComm, media relations, and a botanist on Mars. ABSTRACT: Using case studies based on recent attempts to promote new scientific findings through multiple types/tiers of media, this talk will present strategies that any biodiversity professional might employ when hoping to spread the word about (and engage the public in) their research outcomes. While taking on the job of promoting your own work might seem like a daunting (or even painful) task, the payoffs ideally include: a) Increased reads and/or citations; b) Expanding the reach and impact of your work; and d) Building public enthusiasm for biodiversity science/protection/conservation.
November 14, 2018 - the PCA welcomed Doug Tallamy, Mary Phillips, John Rowden, and Judy Venonsky as panelists (Moderated by Casey Sclar) on "Identifying and addressing information gaps in plant databases to support emerging planting design technologies promoting biodiversity and ecological benefits". ABSTRACT: Technological advancements, including databases, websites, and intuitive parametric design apps, show great promise to assist landscape professionals and home gardeners alike with simplifying the planting design process. However, information gaps need to be addressed in order to optimize the emerging data tools, particularly when it comes to selecting the most useful and available plants to enhance ecosystem services and sustainable design. Much great work has already been achieved through development of the national databases of the Biota of North America Project (BONAP), the United States Department of Agriculture (USDA) PLANTS, NatureServe, and the Ecoregional Revegetation Application (ERA). This panel discussion will address the current plant databases available to algorithms and applications and what efforts are needed to ensure consistent and vetted data on ecologically beneficial plants is readily accessible to emerging technologies and the general public. See the presentation associated with this meeting here.
September 12, 2018 - Abby Meyer, Executive Director, Botanic Gardens Conservation International U.S., spoke about leveraging the garden community to complement and backup collections within and among institutions to close gaps and secure plant diversity for the future. This talk also discussed implementing The North American Botanic Garden Strategy for Plant Conservation and the ways garden staff can use information available to them to assess gaps and priorities for their own collections. Specific information about time and location of the talk will be posted at the end of August.
March 14, 2018 - Margaret O'Gorman - President of the Wildlife Habitat Council
January 10, 2018 - Jeannette Whitton, Director University of British Columbia Herbarium, Canada's SARA & COSEWIC
November 8, 2017 - Emily Sessa, University of Florida, Fern Conservation.
September 13, 2017 - Dwayne Estes​, Director of the Southeastern Grasslands Initiative. You can find a copy of Dwayne's talk here.